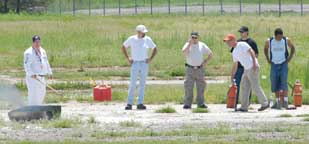 NOTE: Only persons that have attended the New Marshals School and applied for their CASC license are eligible to participate trackside at any CRCA-contracted event.
NOTE TO MINORS: The minimum age for this activity is 16. Anyone 16-17 years of age must have the consent of both parents or a legal guardian.
The next New Marshal School is
Saturday May 28, 2022
845 am – 5 pm
All training sessions are held at Shannonville Motorsport Park, 7047 Old Hwy #2 in Shannonville. The classroom sessions begin at 8:45 a.m. with a break for lunch (provided at no cost, courtesy of Shannonville Motorsport Park). There is a fire-fighting demo/practical session and a trip trackside in the afternoon, weather permitting. (See "Information" below for further details.)
Contact registration@crcamarshals.ca to register.
CRCA Privacy Policy
Map & Directions
Information
New Marshal's Schools are CASC-sanctioned training sessions held at Shannonville Motorsport Park. Students are given classroom/theory in the morning, and depending on weather and attendance, will be given fire-fighting training and taken trackside with qualified and highly experienced CRCA marshals in the afternoon.
And the best part? You can attend the school, meet some people with similar interests, get some "hands on" experience to see what we're all about, and it costs you nothing. If you decide you're marshal material then it will cost you a mere $15.00 to join. This pays for your CASC license and membership in CRCA and, and with no further cost to you, you're well on your way to your Basic marshal's license. (Check out the Application Forms page to get more information.)
Start Right Away!
If you decide to join us, you can start marshalling that weekend if you've come prepared with appropriate clothing for outside work. Out-of-towners are welcome to camp at the track which provides the essential facilities (toilet/showers) and a canteen. For those less adventurous there are also commercial accommodations in nearby Napanee and Belleville.
Eligibility
Anyone 18 years of age (16 with parental/guardian consent – see "NOTE TO MINORS" above) and in good physical health is eligible to become a CRCA marshal.